Nova Scotia Precious and Critical Minerals - Presentations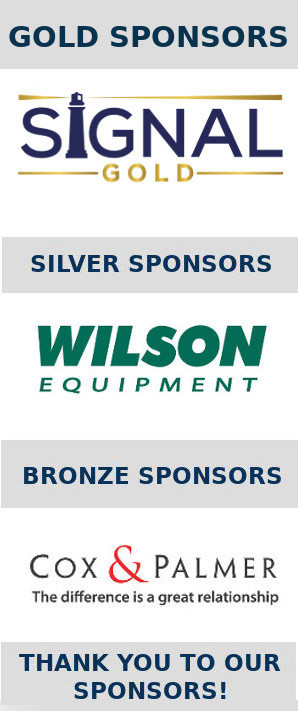 The Nova Scotia Precious and Critical Minerals Show was held November 14 – 15, 2022
The show was a chance for investors and exploration and mining companies to learn about exciting exploration opportunities in Nova Scotia. Companies and prospectors featured their early and late-stage exploration projects and the province's geology for gold, tin, indium, zinc and much more.
We are pleased to provide the presentations below.
We gratefully acknowledge the Government of Nova Scotia for making the NS Precious and Critical Minerals Show possible.

Emily Halle, PMP, Consulting Geologist, Nova Copper Inc. Nova Copper
"The Coxheath Copper-Gold-Molybdenum Deposit: Modern Take on an Ancient Porphyry"
Brian Jackson, P.Eng., Project Director, Goldboro Gold Project
Signal Gold Inc.
"Goldboro Gold Project Update"
Perry MacKinnon, P.Geo
"The Golden Circle"
"Oceanview and Sunnybrae Cobalt (up to 3%!)"
Kimberly Lavoie, Director General, Policy and Economics Branch
Lands and Minerals Sector, Natural Resources Canada
"The Canadian Critical Minerals Strategy"
Rebecca Scholtysik, PhD
Manager, Project Support
Geological Survey Division, Department of Natural Resources and Renewables
"Geoscience and Mines Branch Critical Minerals Projects"
Charles Kodors, P.Geo  Manager Atlantic Canada
Brunswick Exploration Incorporated
"Canada's Largest Lithium Grassroot Initiative"
Rick Horne, MSc, Project Owner
"Caledonia and Clayton Hill Tin-Tungsten projects"
Billy Grace, P.Eng. General Manager
Aureus Gold Inc.
"Aureus Gold: Aureus East Exploration Update"
John Wightman, M.Sc., FGAC, P.Eng.
President & CEO, Champlain Mineral Ventures Ltd.
"Kemptville Au/Mo Deposit" "Brazil Lake Lithium Deposit"
Jim Michaelis, P.Geo (ret)
COO Basin Metals Ltd.
"Update on New Britain Drilling - Base Metals"