Environment
Mining is an environmentally-responsible industry that makes temporary use of land, and then reclaims it for other purposes, such as natural space, recreational areas and commercial and residential development. For example, Point Pleasant Park, one of Nova Scotia's most beautiful natural spaces, contains over 50 former quarries, and shopping centre Dartmouth Crossing was built where several quarries used to operate.
Reclamation, or preparing a mine or quarry site for its next use, is key to ensuring future generations will continue to enjoy an area after we have taken from the ground the materials that we need to support our modern society. Mining and quarrying companies are committed to minimizing our environmental impact while working on a site, and then to reclaiming it in ways that maximize its use for communities.
Today's mining and quarrying industry is a sophisticated, high tech business that is vital to our economy and way of life - and a very different industry than in the past.
Dig a little deeper. This is not your grandfather's mining industry.
Visit Not Your Grandfather's Mining to learn more about how the industry works today and how it is stringently regulated by the provincial government.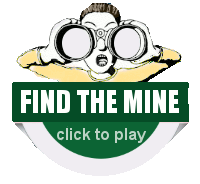 Take our "Find the Mine" quiz and see if you can guess which pictures are of reclaimed mines and quarries, and which aren't. It's harder than you think!

What Nova Scotia's mining and quarrying industry takes from the earth, we give back. Click to see a short video about reclaimed mines and quarries.